Independent Verification and Validation (IV&V) assessments can play a key role in executing a successful transformation program by validating if new processes, technology or organizational changes have a minimal risk of failure and are set up for success. Rapid Engagement IV&V is specialized for smaller transformation assessments that can be as short as six weeks or last several months and provides immediate insight and actionable advice to ensure you are on the right track at any stage of your transformation. Rapid Engagement IV&V saves you time, reduces your risk of going in the wrong direction, eliminates rework and supplements your in-house knowledge and expertise to ensure you deliver optimal value as quickly as possible.
What does Rapid Engagement IV&V look like in practice? IV&V teams leverage Agile principles communicating with your teams through a series of sprints to provide early and continuous feedback and recommendations.
Example of Rapid Engagement IV&V
An Agile approach to executing Rapid IV&V engagements uses a non-linear 3-phase approach to deliver value quickly and iteratively throughout the engagement.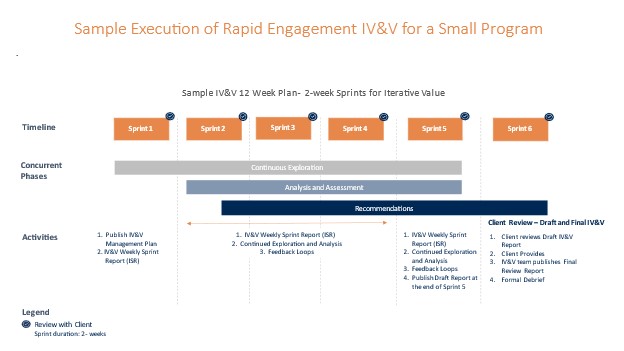 Phase 1: Exploration
Initial exploration is carried out during Sprints 1 – 3. Current State and Gap Assessments are conducted by the IV&V team using the following methods:
Walkthrough and introductory sessions by subject matter experts

Focused Stakeholder interviews using checklists, open-ended questions

and document reviews as needed

Reviews of project, scope, schedule, resource, financial, communications and requirements artifacts

On site or virtual Gemba walks
Phase 2: Analysis and Assessment
Analysis and Assessment is carried out during Sprints 2 – 4. Documentation and Stakeholder feedback are analyzed using the IV&V team's domain expertise and applicable checklists and tools. The analysis provides a foundation for focused Recommendations in the Sprint reports. Key activities to understand the problem space better include:
Identification of gaps, bottlenecks, conflicts and opportunities

Evaluation of Project and Program Management approaches

Evaluation of compliance with relevant standards and processes

Exploration of the needs, issues and aspirations of users / teams

Evaluation of current processes

Identification of gaps in capabilities and functions

Assessment of requirements alignment with broader business objectives
Phase 3: Recommendations
Focused recommendations are provided to address gaps identified during the IV&V engagement, as well as validate the current use of industry best practices within the program.
In keeping with Agile principles, Recommendations are delivered iteratively throughout the project. Preliminary findings are shared through reports at the end of Sprints 2, 3 and 4. This early feedback loop is meant to enhance collaboration between the IV&V team and your teams and results in a better Final Report with no surprises.
The Recommendations in the IV&V Sprint Reports are aggregated and published in the Final IV&V Report. The focus of the Recommendations is to improve the efficiency of current practices, fill any gaps identified, remove impediments and ensure closer adherence to standards and processes.
To learn more about how Rapid Engagement IV&V can help you validate that you are on the right track and identify potential for increased business value, download the Optimize Your Digital Transformation with Rapid Engagement IV&V eBook.