Cost transparency is an absolute necessity for decision makers to maximize the value of IT spending. There are key questions leaders face as they position their organizations to deliver the most value while continuously improving:
Do costs need to be reduced in any areas?

Can more value be delivered by increasing spending in a specific area?

What is our return on investment for IT spending?

Do we have the flexibility to respond to new opportunities?
This is where the Technology Business Management (TBM) framework comes into the picture. TBM is a methodology introduced by the TBM Council, a non-profit organization of forward-thinking CIOs and senior IT executives, designed to communicate the value of information technology to organizational Stakeholders to better equip them to achieve organizational objectives. The standard TBM taxonomy provides a Finance perspective, IT perspective and Business perspective that brings a shared understanding of IT spending and the value it delivers to Stakeholders across functional areas.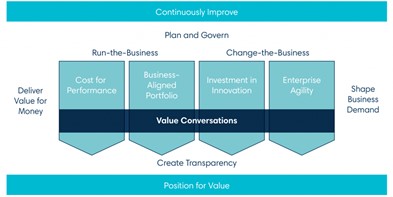 The TBM Framework, source: Apptio
Value Conversations are the heart of the TBM framework, as you see in the graphic above. They draw out tradeoffs between cost, consumption, capacity, performance and risk in pursuit of better business outcomes. The conversations can be among internal Stakeholders or between an organization and its business partners where they collaborate on the decisions and trade-offs required to simultaneously optimize "Run the Business" and "Change the Business" spending to achieve greater business value and mission achievement.
The Four Value Conversations
The TBM Value Conversations below are designed to help foster collaboration between IT and Business. Included are high level examples of the type of questions that are collectively addressed in each category of conversation.
Cost for Performance (Run the Business)
Are we optimizing return on our investment in IT?

Can we improve efficiency while maintaining service quality?
Business-Aligned Portfolio (Run the Business)
Is our IT portfolio aligned with our precise business needs?

Does spending on IT maintenance crowd out spending on business growth and transformation?
Investment in Innovation (Change the Business)
Can we leverage new technology to improve service offerings?

Can we pull resources from other teams to increase our focus on innovation and product/service improvement?
Enterprise Agility (Change the Business)
Are we responsive to opportunities and threats that arise?

Can we quickly and efficiently refocus our efforts when necessary?
The cost-benefit trade-offs arising from Value Conversations are informed by precise metrics gaging organizational operations. Using the TBM framework and taxonomy, facts and data are presented in a way that ensures Stakeholders and decision makers representing line-of-business, IT and finance concerns are collectively speaking the same language that allows them to effectively collaborate on business-aligned decisions. The value conversations at the heart of the TBM framework reduce reliance on conjecture by providing a clear, data-based methodology for evaluating and managing IT spending to optimize the trade-offs and resource allocation in pursuit of business outcomes.
Are you having these value conversations at your organization? If not, you should be – and TBM can help you start.