There's a familiar pattern we see in training teams that stalls Agile Transformations. Leadership decides on a particular Agile methodology and invests on sending teams to off-site training to get people certified in the chosen methodology. Teams return to put their training into practice and they hit a roadblock.
What are the causes of the roadblocks and how can you train your teams more effectively? In the on-demand webinar, Train to Sustain: 3 Ways to Get the Most Out of Your Agile Training, xScion's Agile Practice Lead, Jennifer Romero-Greene and Agile Coach, Lyndsey Letellier, draw on their training experience to share tips and strategies to understand and overcome roadblocks and to train your teams for long-term success.
How Agile Knowledge Workers Learn
The teams you train to lead your Agile transformation are knowledge workers. According to the National Training Laboratories Learning Pyramid developed in the 1960s, most learning takes place through hands-on, in practice learning. The ideal setting is in the work environment where teams can discuss new concepts and how they can be applied, put them into practice to see how they work and teach each other as they go.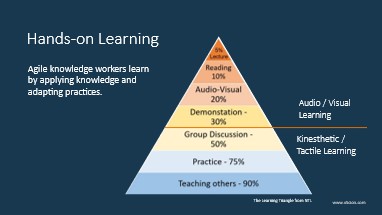 Putting new Agile principles in practice as soon as possible immediately reinforces the learning. If your teams iterate from there, continuously improving their skills as well as the concept/practice fit, they will master and grow their new skillsets.
A Framework for Successful Agile Training
Bring in Agile coaches with experience working through Agile Transformations. Embed the coaches in Agile teams to guide and coach the Scrum Master and team members toward becoming self-managing teams. This gives Scrum Masters, who are new to the methodology and their roles, experts to work with who can provide potential options and work with them to help their team apply Agile methodologies to solve problems.
The benefit of working through problems with an experienced Agile Coach is that the teams are given multiple solution options within a framework, then they collectively evaluate each option and put a solution in practice in their unique, real-world situation. This helps them master and retain new information in a way that provides optimal business value. The coach encourages organic Agile maturity in the entire team with the goal of moving off the team when the Scrum Master can take the role of the coach while other team members grow in their roles on a self-managing, self-sufficient Agile team.
The key is to put Agile concepts into practice right away. Your teams lose a lot if they go through classroom training, come back to the work center and then try to recall and apply the learning a few weeks later. Jennifer and Lyndsey find that using this process, teams feel supported, set up for success and quickly gain confidence in their new skills, resulting in a quicker Agile transformation.
For more tips on how to optimize your Agile training, avoid transformation roadblocks and set your teams up for success, watch the webinar, Train to Sustain: 3 Ways to Get the Most Out of Your Agile Training.