An unprecedented health crisis has led many American businesses to rapidly pivot to telework and distributed teams. While this employment model may seem as the antithesis of Agile practices, the reality is that Agile culture can thrive within a distributed model. Traditional Agile practices encourage teams to be physically located together to promote greater collaboration, more iterative production, and greater velocity. Newer frameworks such as SAFe are designed to incorporate dispersed teams and individuals. While many businesses have, over the years, incorporated distributed teams to manage geographically dispersed enterprises, meet resource challenges and account for contractors and partners, the magnitude of the recent shift to telework is leading to magnified organizational challenges across enterprises of all sizes.
With so many of us thrusted into telework and distributed teams overnight, this is a unique opportunity for leaders to not only focus on minimizing disruption to business but also galvanizing an Agile culture within their organizations. Agile culture is driven by Agile mindsets. Providing the right tools, processes and communication methods are the prerequisites.
As individuals and teams shift to a distributed model, challenges that should be addressed include:
Logistics – Work from home assets, connectivity and security requirements.
Are hardware assets provided to employees secure?

Does your organization have the security bandwidth to provide VPN access to all employees?

Do employees have secure access to the internet, phone lines and conferencing capabilities?



Coordination (Communication) – Infrastructure for online interaction and collaboration between teams within varying time zones including applications, cameras, telephony and space.
Are available applications conducive to open communication and collaboration?

Do employees understand how to best leverage available tools?



Scheduling – Modifying schedules to accommodate for new gatherings, stand-ups and town halls that did not exist prior to the crisis.
How should individuals, teams and programs account for new communication needs?

How do you balance structured and unstructured communication when everyone is dispersed?
While development teams might be naturally suited towards Agile principles and distributed teams, other parts of organizations could face road bumps adjusting to "new norms" in communication and collaboration.
Collaboration
Is video conferencing scheduled time or can it be used for casual conversation?

How do you choose between the myriad of tools available within larger enterprises?

When should teams rely on project tools such as Jira, Git and Version One compared to platform tools such as Slack and MS Teams?

What should and should not be shared in a group setting on a tool or platform?
As stated earlier, promoting Agile mindsets that fuel Agile culture requires more than tools and process; it requires focus and dedication from not-the-usual suspects. Leaders starting from the top to the frontlines must pivot to ensure that in a time of uncertainty, transparency and constant communication lead to a quick adaptation to the "new norm" of dispersed enterprises. While mind shifting does not occur overnight, expansion of activities that lead to a mind shift should be ongoing.
Cultural Mind Shift
How do you foster open communication within a dispersed workforce?

Does 1:1 conversation become the new "hallway chatter?"

How do you fight the "out of sight, out of mind" concerns?

How often do you evaluate processes and tools for course corrections?

How can telework and distributed teams lead to greater productivity?

Should these topics be discussed within teams? (Yes!)

Can asynchronous communication actually reduce the need for meetings?

Are platform-based (Slack, Zoom, MS Teams) meetings better planned leading to greater outcomes?

How do you get managers to better trust their remote employees?

How do you virtualize the social element that has disappeared?



Encouraging Agile Practices within Virtual Teams
Factors that drive productivity within distributed teams include defining clear objectives, being hyper-organized and establishing communication channels that mimic or even out -perform traditional means. While this crisis is leading to decentralization of enterprises, Agile practices can smooth out this sudden transition through employment of:
Transparent processes that are driven by Agile ceremonies

Project visualization that defines tasks through Kanban Boards and other easy-to-track tools

Introduction of daily stands ups and other ceremonies to teams that might not be traditionally aligned to Agile practices

Conducting traditional Agile ceremonies such as "Retros" using virtual tools
As enterprises conduct business through this "new norm", pivoting to an Agile mindset will help to not only transition individuals and teams to teleworking and a distributed operating model more efficiently, but will also ensure that productivity does not miss a beat.
For More Tips & Actionable Advice, Join Us on Friday 3/27 for a Live Webinar:
Empower Your Now-Remote Teams: Maximize Agility, Velocity & Collaboration
Our experts will discuss how to ensure your teams are tactically set up for success, how to keep your corporate culture and even how to accelerate productivity.
Register here.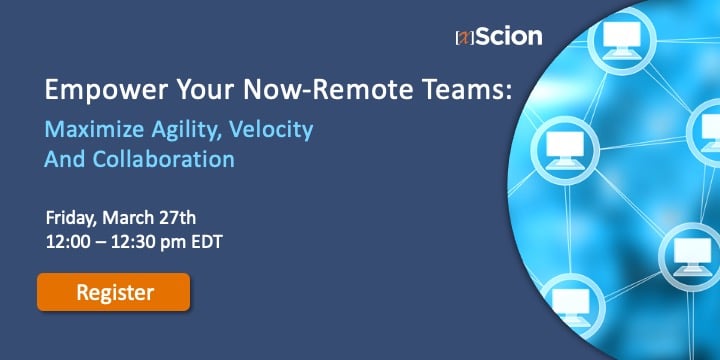 By Mason Chaudhry, Chief Transformation Officer